Customer Reviews
02/10/2022
Kelley T.

United States
very cute - and very soothing
Great during meditation and brings me happiness every time I look at it! I'd been looking for a soothing lamp / diffuser for my desk, and this one from happyhaves cheers me up on hard days to see the warm glow along with whichever scents I'm using.
02/10/2022
Karin W.

Australia
shipping to Australia took over 7 days
I just received it. I expected faster shipment, so 1 star for me. I had to wait over 7 days to get it (from the US) to Australia.. the moon looks good, but I just don't like to wait this long...
02/10/2022
Jennifer R.

Czechia
wish I bought it months ago!
This full moon is beautiful and uplifting. It gives my morning and evening routine an extra 'spiritual' dimension. I just wish I bought it like months ago, as it makes me feel calm and relaxed.
10/30/2021
Christine

United States
10/30/2021
Sarah R.

United States
brings positive energy and good vibes in my room
I never write any review, but I got this Happyhaves moon as a gift from my mom and every time when I look at this moon it reminds me of her.. It's way more than just a lamp or diffuser for me. Thank you so much.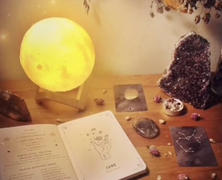 Hi Sarah, We greatly appreciate you sharing your thoughts with us It fills our heart with love to read that your Happyhaves Full Moon gives you positive energy in your life. This is exactly the reason why we made it ❤️ Thank you for taking the time to write this review. Many blessings, Team Happyhaves ❤️
10/30/2021
Nico R.

United States
we get overwhelmed with compliments
When I spotted this online I knew that it would be my wife's taste. She is thrilled with how it looks and gets many compliments! Also, I was impressed by how beautiful the packaging was.
10/30/2021
Lisa T.

United States
if you're looking for a gift, this is it! We LOVE it!
Ok to be honest, if you're looking for any gifts for your friends or family... THIS is it… Seriously, it's so surreal, you actually feel mesmerized when you look at it. It's like the moon is really there in your hands! Details are beautiful. Perfect gift for anyone you love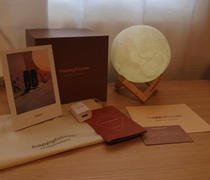 10/30/2021
Lua G.

United States
10/30/2021
Kim E.

United States
10/30/2021
Grace

United States
ambiance is so mesmerizing and soothing
I absolutely love my lamp. The ambiance is so mesmerizing and soothing. My granddaughter is in love with it as well and has requested one for her 6th birthday present. Thank you Happy Haves!!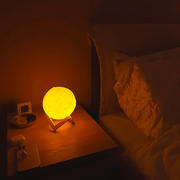 Hi Grace, Thank you for taking the time to write your review! I'm so happy to hear that you've been enjoying your Happyhaves products. All the best, Team Happyhaves
1 YEAR HAPPINESS GUARANTEE
WE PLANT TREES IN CALIFORNIA & AUSTRALIA
FREE INTERNATIONAL SHIPPING ABOVE $30