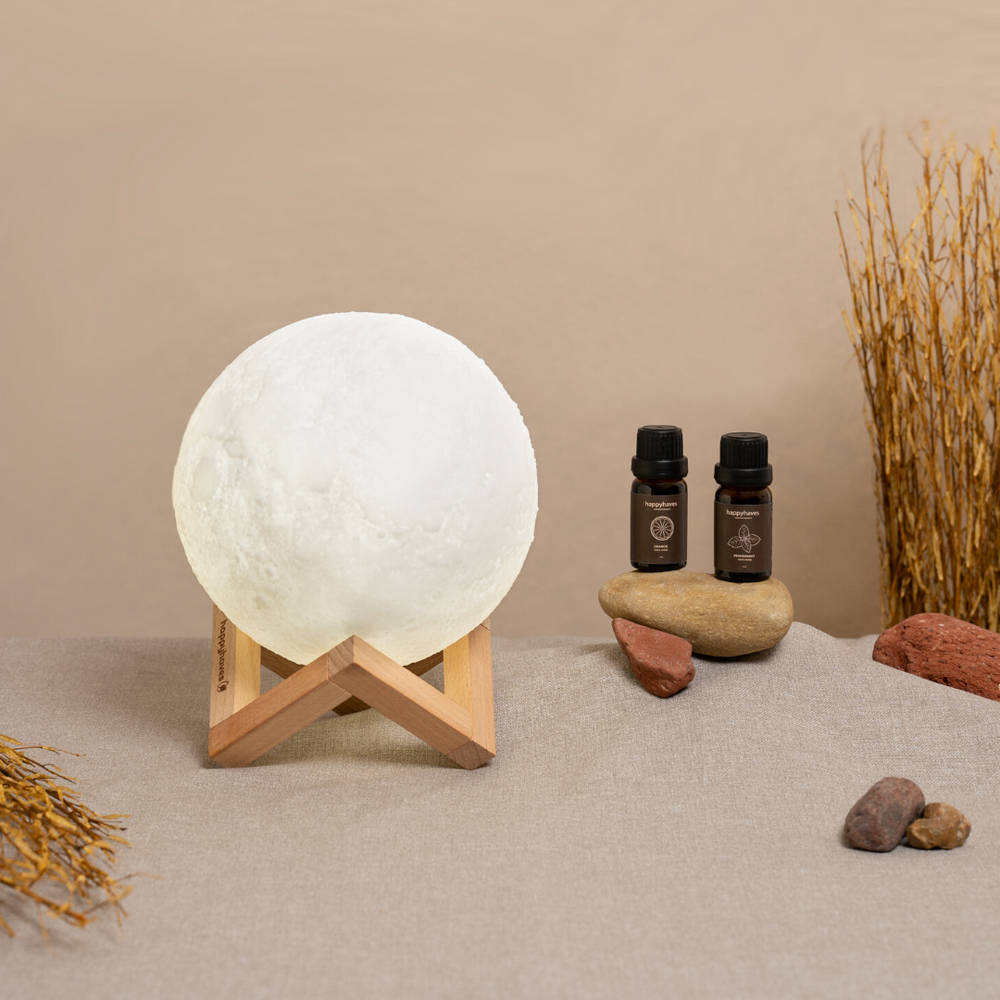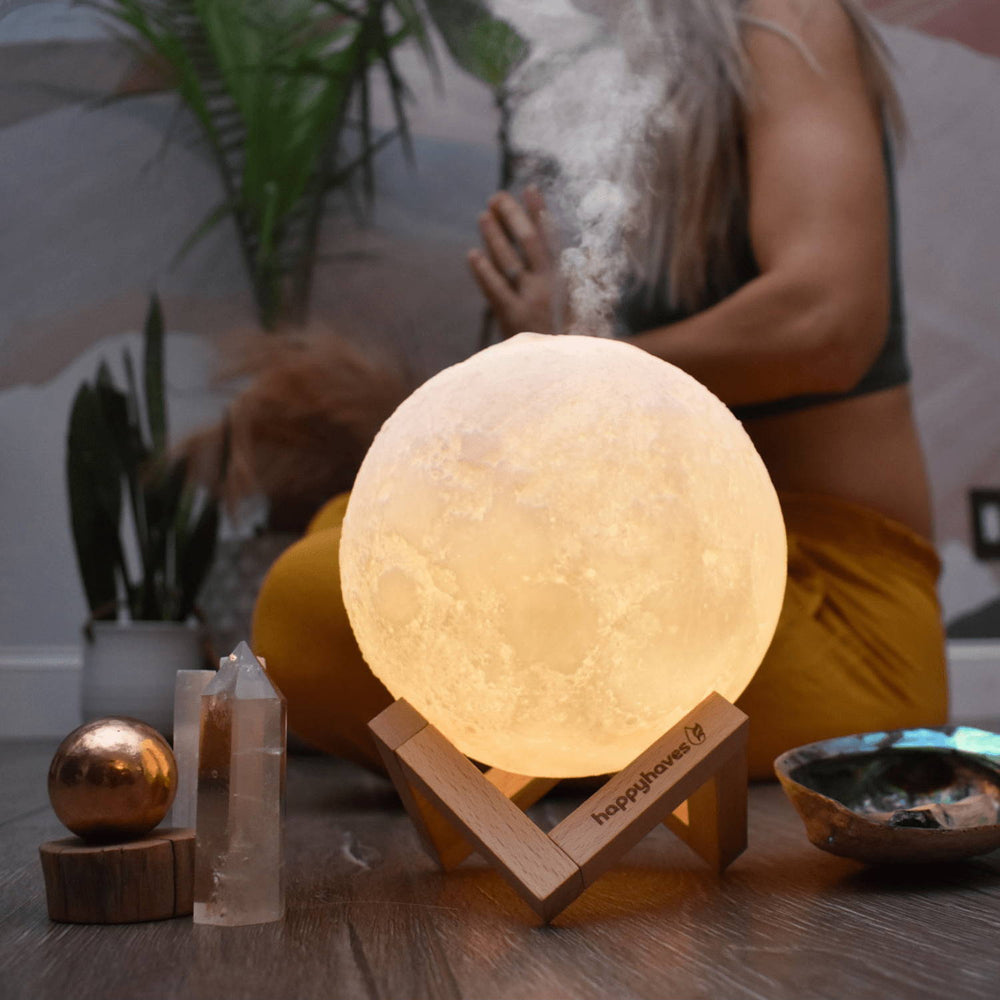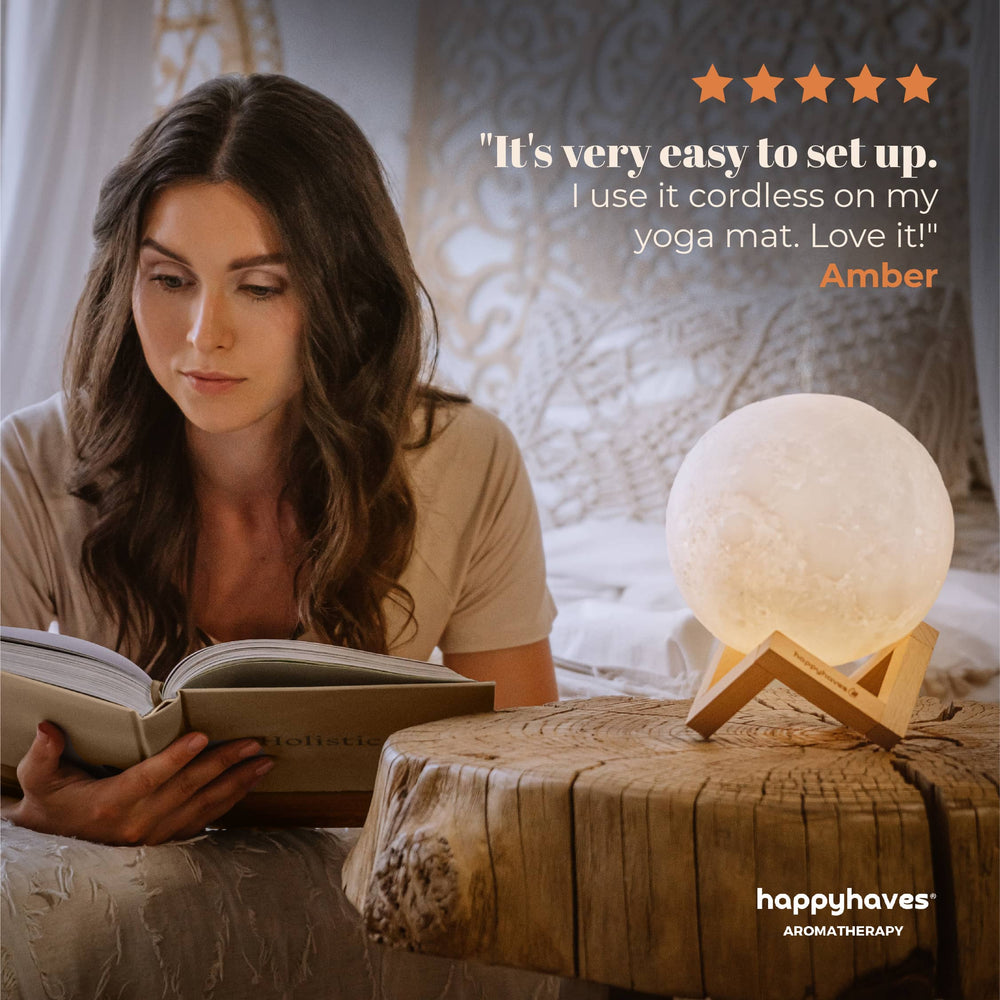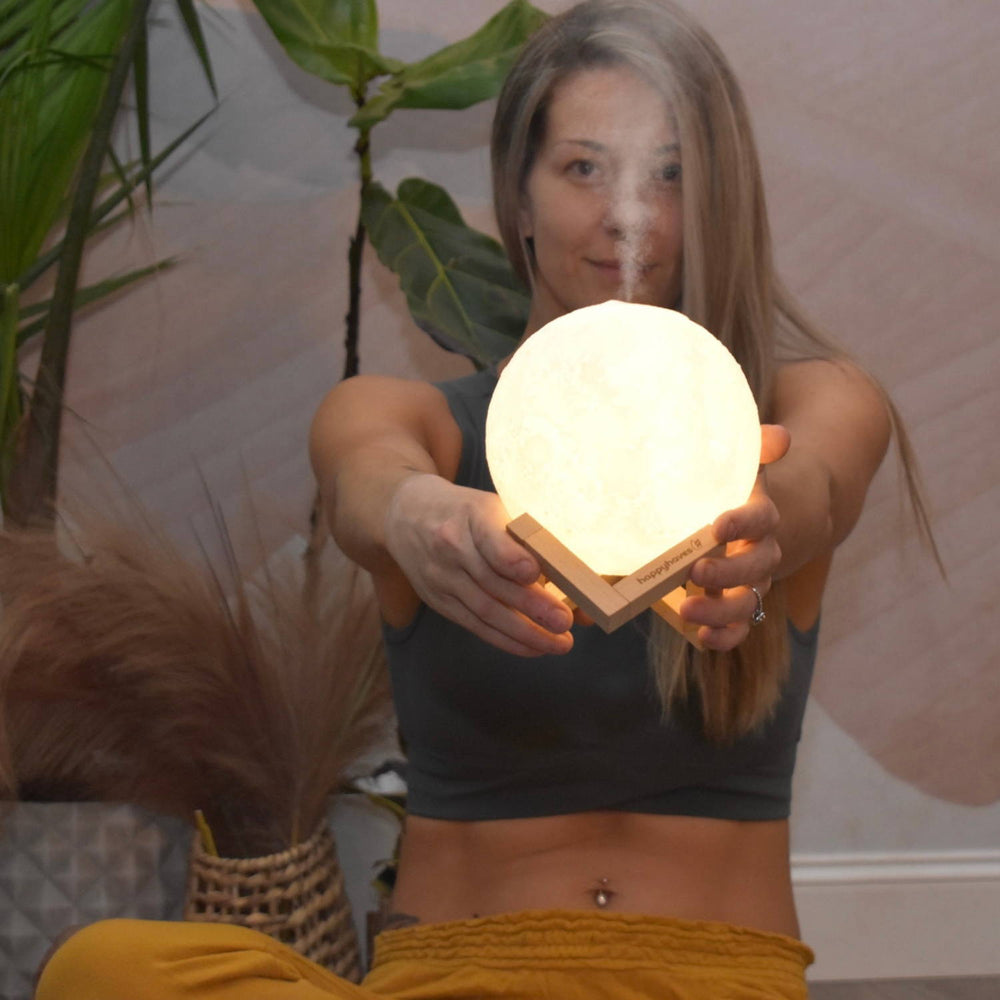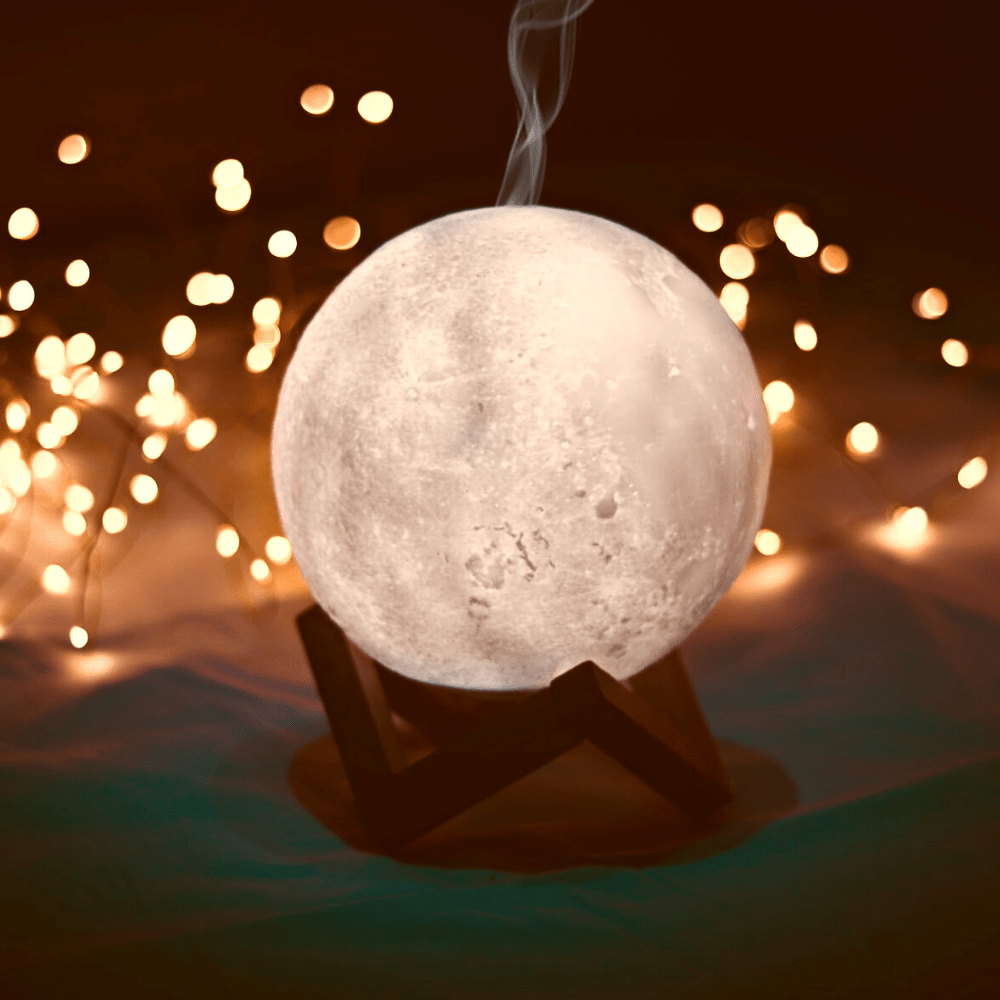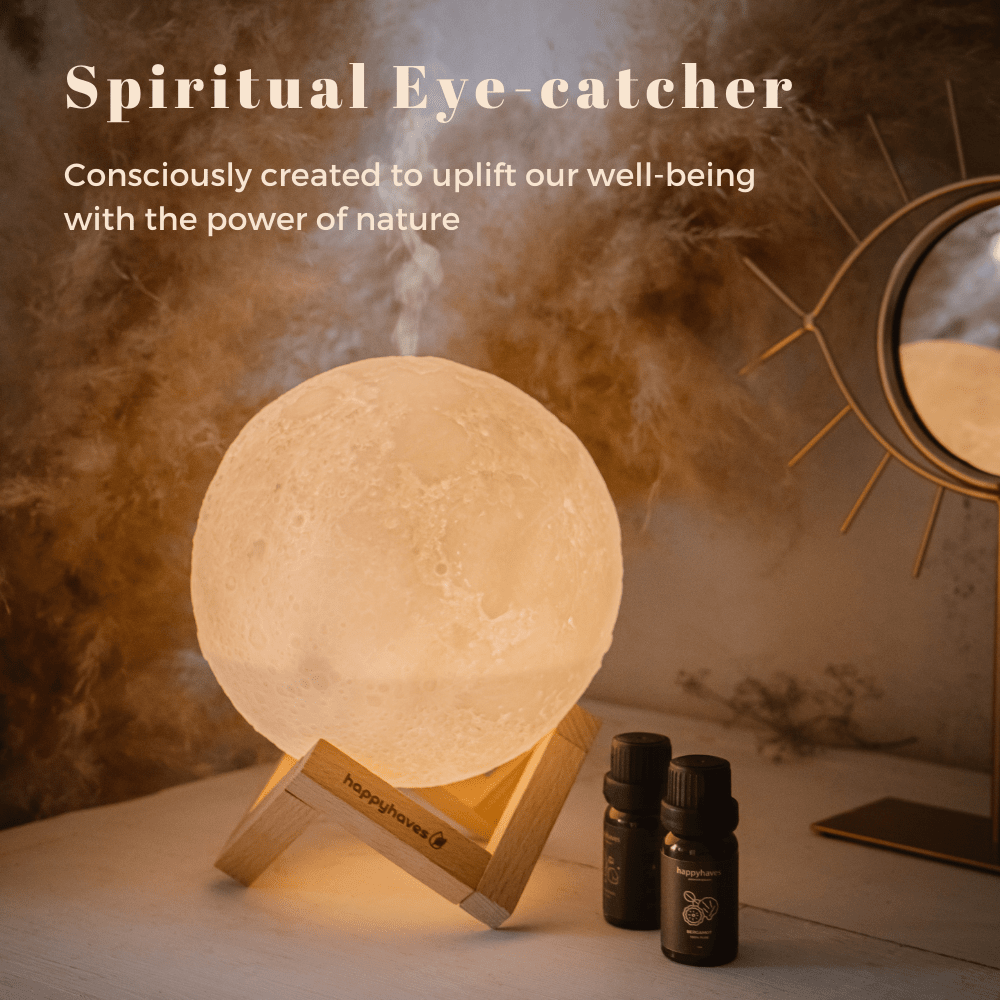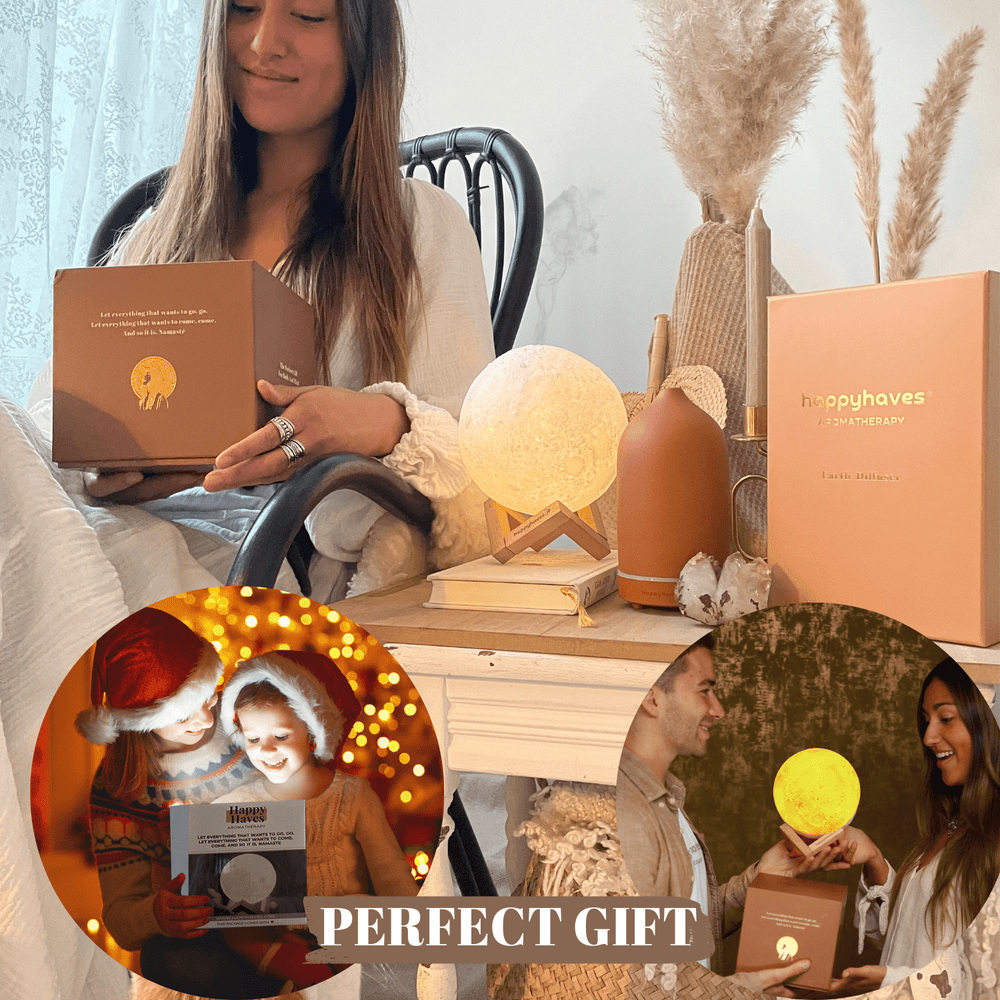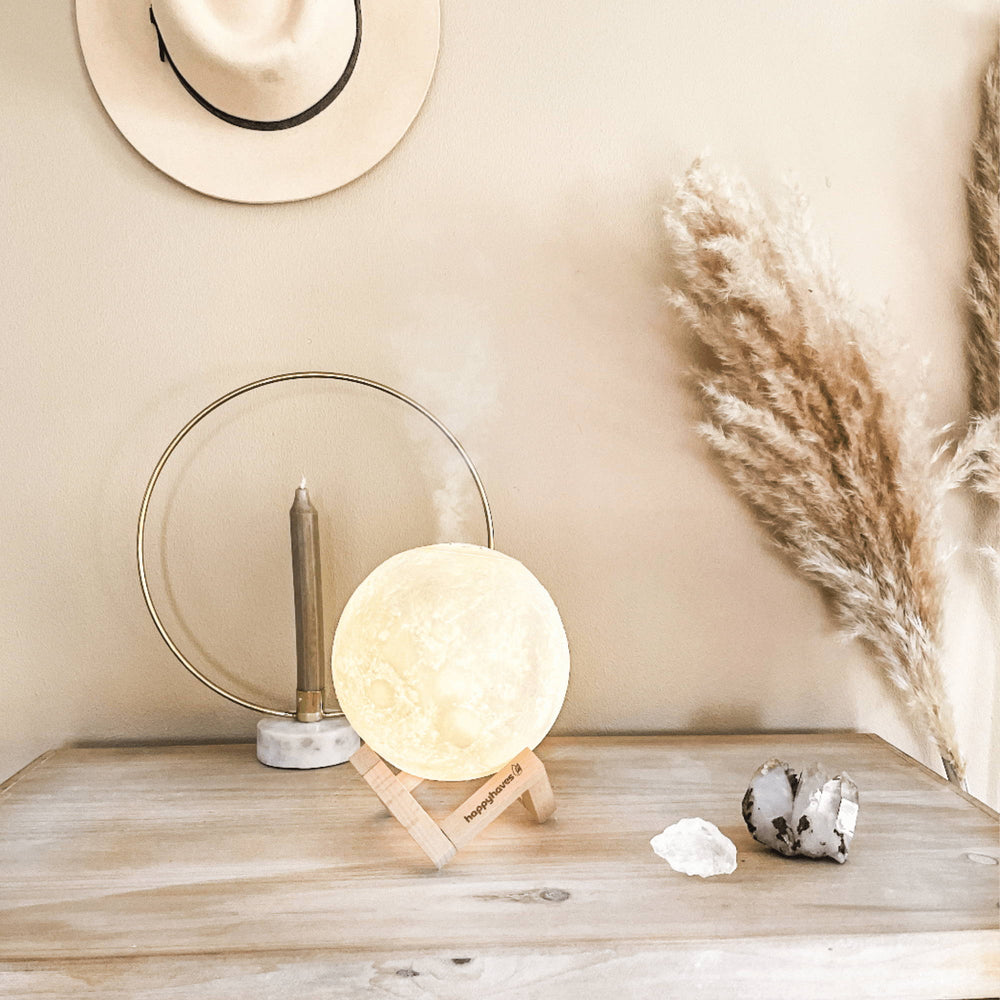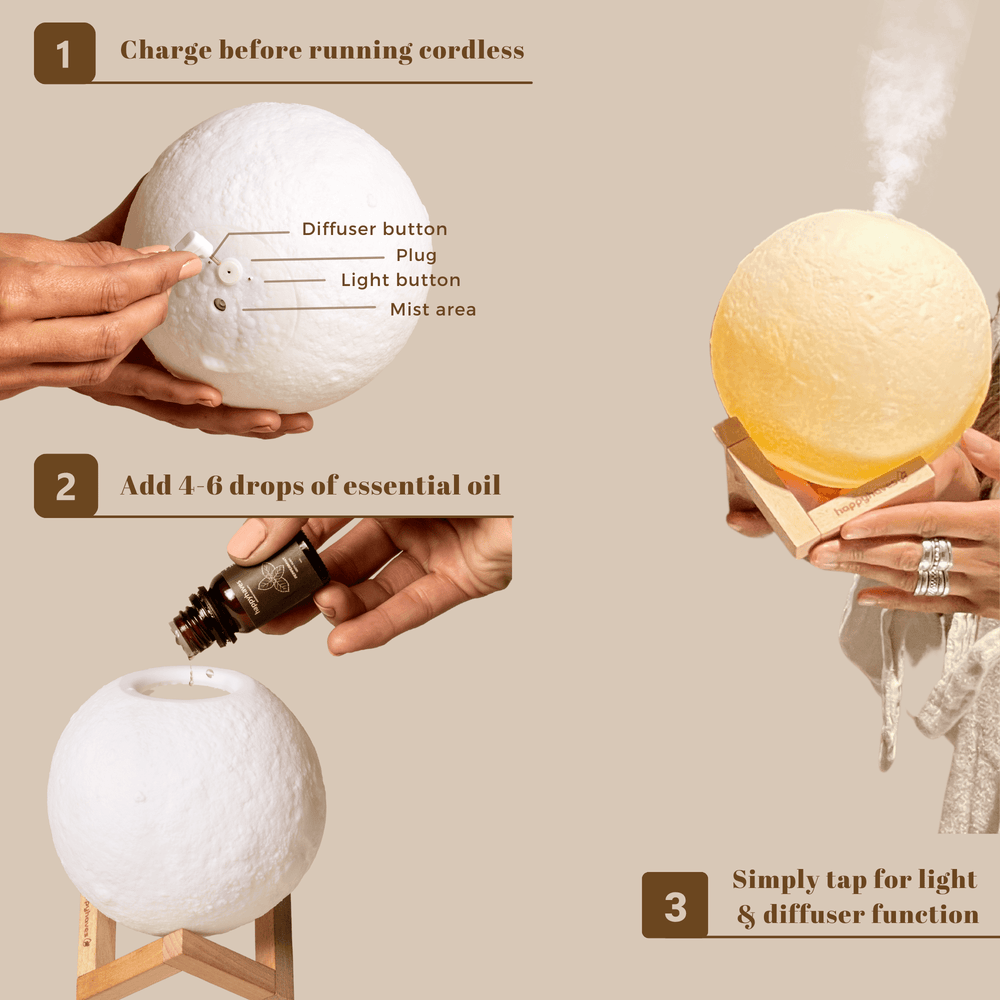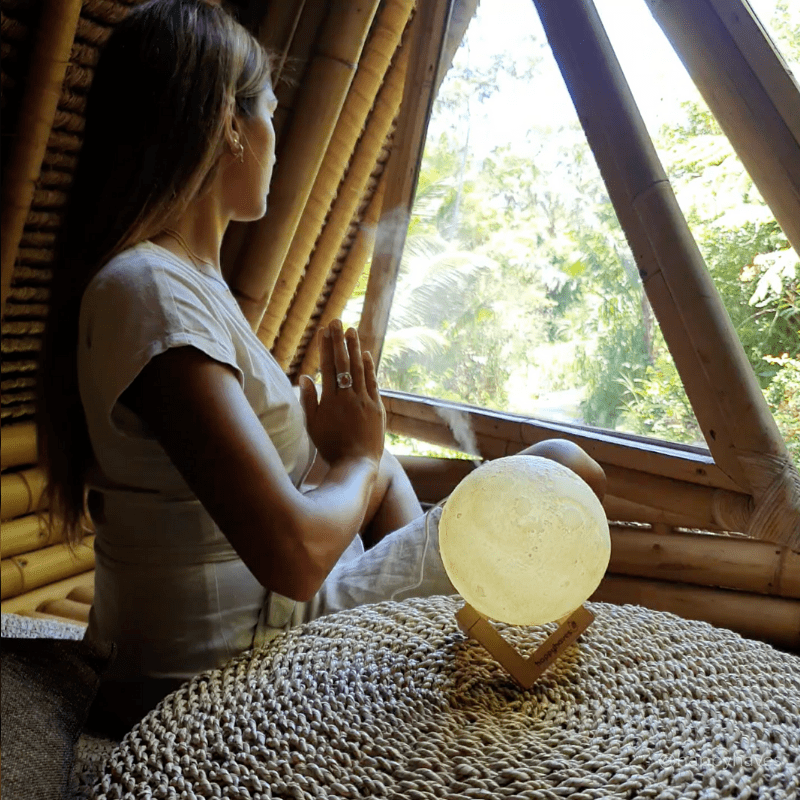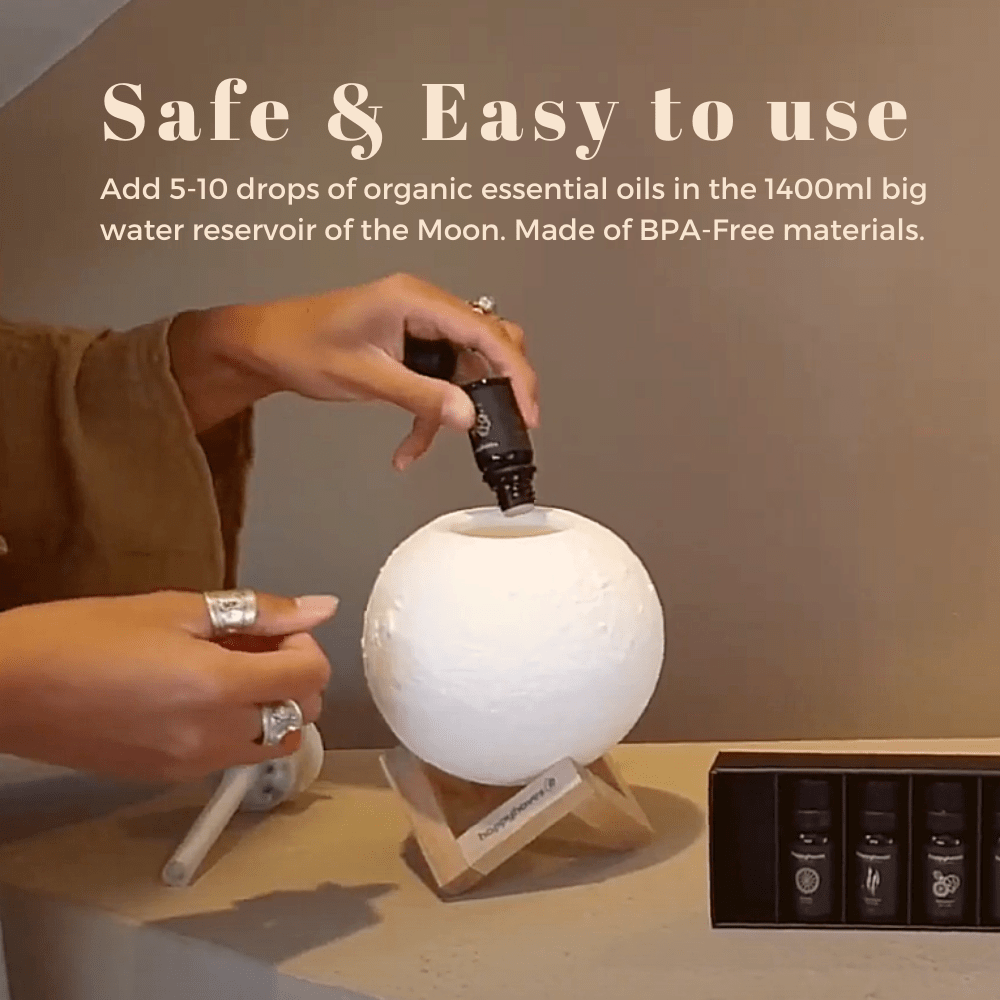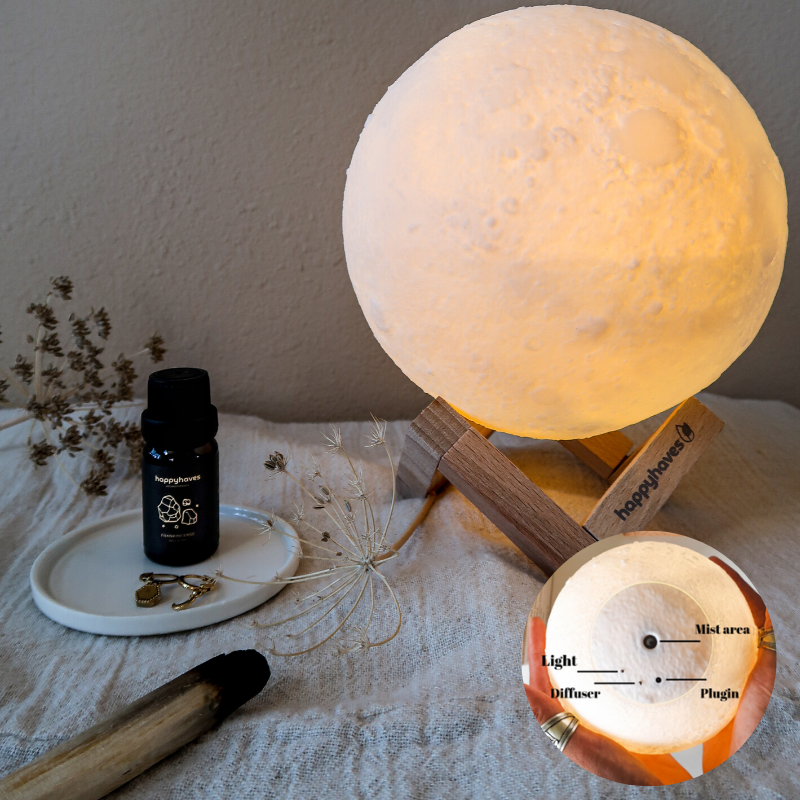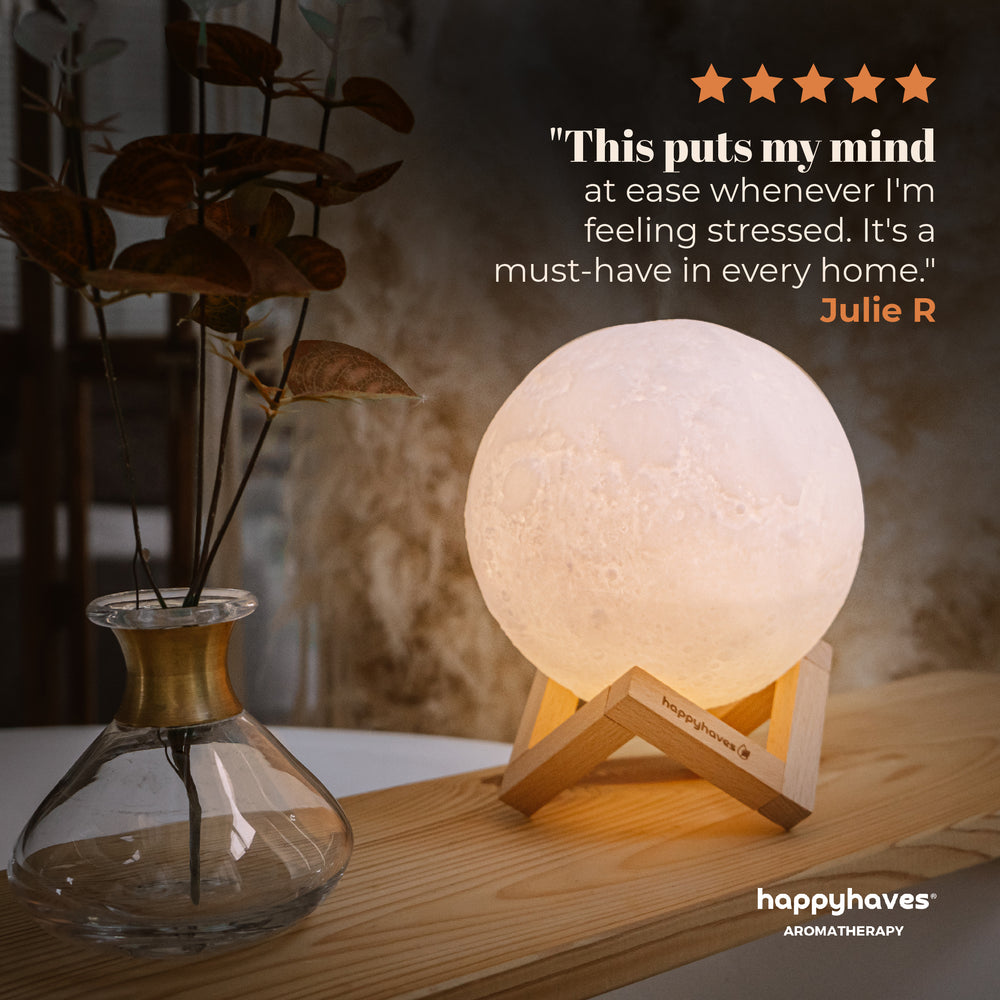 Your well-being is too important to leave to chance. so don't.
Meet the diffuser of the future that runs cordless and helps you to connect with yourself in a world designed to distract you.
The only diffuser and lamp (2-in-1) designed, constructed and optimized for deepest-possible relaxation in any environment.
Because more relaxing moments means more everything.
Therapeutic Stress relief lights
Naturally fresher air to breathe better
All day calmness to feel more energized
Brings positive vibes inside your home
Over 32.000 happy customers!
It's simple as 1,2,3
It's easy as 1,2,3
1. Fill with Water + Essential Oils
With a simple click you can activate the diffuser and/or lamp
2. Create Your Own Relaxing Sacred Space
Perfect for your rituals, yoga, meditation, etc.
3. Let Go, and Feel Better
Take care of your Happyhaves diffuser, and it will take care of you.
HAPPINESS GUARANTEED
WE PLANT TREES IN CALIFORNIA & AUSTRALIA
FOR THE PLANET & PEOPLE
The Full Moon Styled by our community
What makes Happyhaves different
100% WELL-BEING
for maximized innerpeace — so you feel 100%, all the time
It can be hard to have your own mindful moments in this ever-demanding environment that we live in, leading to post-sleep tiredness, anxiety, and burn-outs. That's why Happyhaves helps you to relax and have your own me-time moments to better breath deeply and release tention, even in these hectic times — so you always feel more deep connected and grounded.
"I was a bit skeptical, but I've been using this Full Moon for several weeks now, and I feel more relaxed and grounded during the day. Perfect while doing yoga, meditation, or just while reading my books."
-Christina M.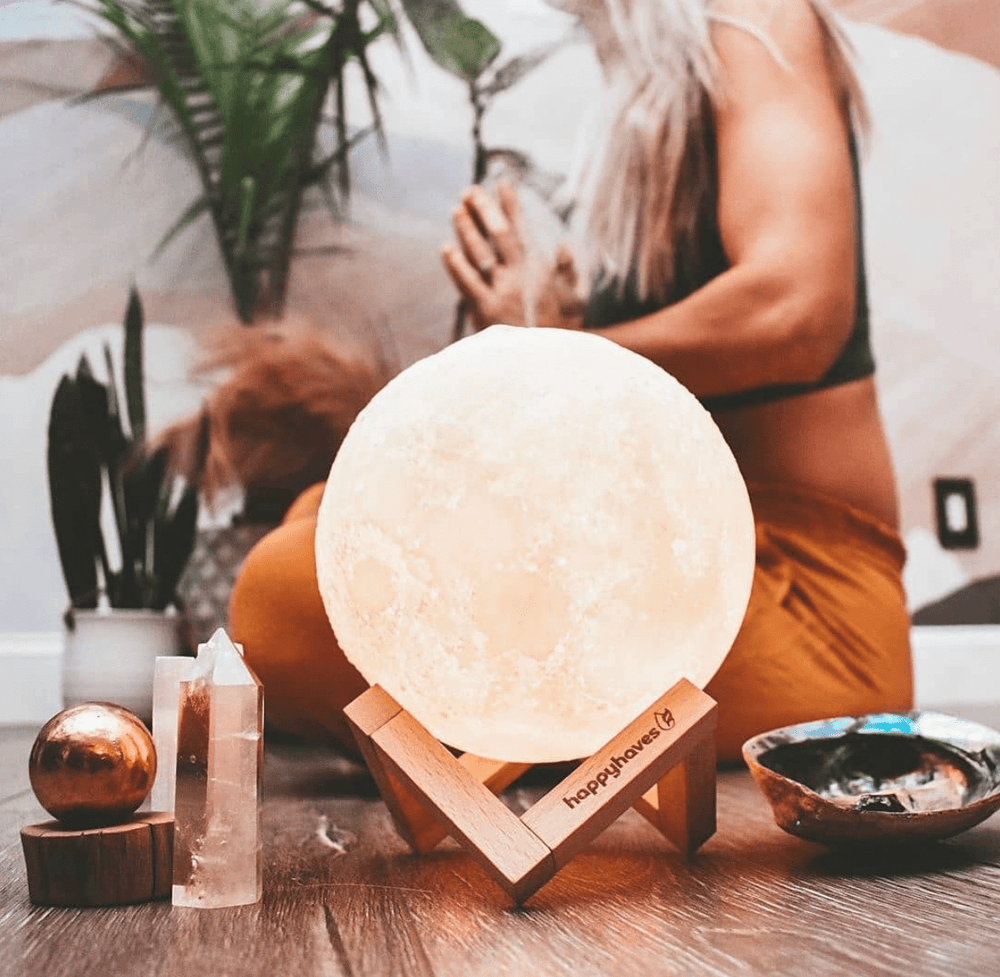 ''I wish I bought it months ago!! Perfect while doing yoga, meditation, or just while reading my books. It sure brightens up our home and our mood.'' Jennifer R.
A great way to scent your space safely and naturally.
How does Happyhaves compare?
| | Happyhaves Full Moon™ | Generic diffuser |
| --- | --- | --- |
| improves well-being and uplifts mood | Yes | Yes |
| lightweight | Yes | Yes |
| creates a soothing atmosphere | Yes | Yes |
| Ability to run cordless | Yes | No |
| xl water capacity (1400ml) | Yes | No |
| 3 dimmable lights adjustable for personalized needs | Yes | No |
| runs without making any sound (<12dB) | Yes | No |
| durable, high-quality materials | Yes | No |
| 1% donated to environmental charities | Yes | No |
| | | |
Our mission:
Empower every human soul with mindful moments, so they can feel more inner peace. Everything we create is fueled by our drive to enable better lives through improving well-being and giving back to our planet.
Happyhaves is founded in The Netherlands (Europe) by couple Fay & Daniel, who both moved to California in 2020. We believe mindful me-moments is the non-negotiable foundation you need to create your best life.
That it's impossible to unlock your full potential if you're not having me-time for yourself every day. And we need to take care of ourselves, now more than ever.
Testimonials
'It's very easy to set up.. I use it cordless on my yoga mat. Love it!
'The details of this moon are just BEAUTIFUL!'
Testimonials
The details of this moon are just BEAUTIFUL! The perfect gift <3
It's without a doubt the cutest gift ever. Recommend!
Frequently Asked Questions
What will I get when I order the Happyhaves Full Moon?

All you need is inside our Happyhaves Moon Box to completely relax:

Happyhaves Full Moon®
Happyhaves wooden stand

Cotton swab stick to extend smell
Charging cable (can be used for US and AUS)
Instruction manual + aromatherapy guide
A special gift for new customers

note: this product is only available in the US and Australia.
How does it work? Can it really operate cordless?
Yes! This is our 2.0 version of the Happyhaves Full Moon which took us almost a year to make it run cordless. You can simply just tap the light or diffuser button on top of the Happyhaves Full Moon to activate these functions. You can use the lamp and diffuser function at the same time or use it separately. Whatever you like. You can fully charge it in 2 hours (cable included for US and Australian customers). No worries, it's very easy to use!
Do you also sell essential oils?
Yes we produce our own organically farmed essential oils in the South of the Provence, France.
Where can I buy Happyhaves™ ultrasonic diffusers?
Happyhaves™ products are exclusively available through this online store. That's how we can guarantee the best price - and cut out unnecessary margins. In the spring of 2022 we will open our first store in Joshua Tree (California, US).
What about shipping costs and returns?
We offer a 1-year limited warranty for all our products. Returns are accepted within 60 days after you receive your order. We offer FREE shipping within the US, with tracking numbers from FedEx or UPS. Starting from May 2021 we now also ship to Australia!
Where are the products shipped from?
At Happyhaves we ship most of our orders within 1-2 business days from our own warehouses in The Netherlands (Europe), Asia and/or California (USA). Shipping (with tracking) is 5-8 business days. Currently, due to extremely high demand, our local carrier is experiencing some delays, and our shipping time may be increased with several business days. Thank you for your trust and support.
All Happyhaves® diffusers are exclusively available online at www.happyhaves.com.
Customer Reviews
02/28/2022
Amber R.

United States
had my doubts lol (I'll explain!)
You know what is funny?? Before buying it I was worried what my husband would say after another online purchase that he think is not necessary.. now he is SO happy that I did!! I bought 2 of these Happyhaves moons and they're both on our nightstand and it brings such a positive (and romantic) energy in our bedroom. Totally recommended!
01/31/2022
Melissa R.

Germany
LOVE IT!!
I wanted this for a very long time, and now I was finally able to get it! I didn't had the money by that time, but somehow I was able to get it all together and now this full moon is sitting in front of me <3 It's like having the actual moon in your living room!
01/31/2022
Andrew R.

Germany
best investment for a (clean) house full of positive energy!!
it has been about 4 weeks now since I bought the happyhaves moon as a gift for my wife, and we cannot thank you guys enough. It brings such a peaceful, relaxing ambiance. Also, the details of the moon look so realistic (i don't think the pictures doesn't do it justice). My wife, and our little one, really enjoy it (photo attached)
10/03/2021
Laureen C.

United States
College Girl
Bought this for my daughter going off to college as a freshman for her dorm room. She LOVES it and finds it very calming and soothing! She diffuses scents that we use in our home and is reminded of us!
07/03/2021
Leigh-Ann M.

United States
Moon
My daughter and I each bought one and we love it!!
06/02/2021
Emma

United States
Beautiful premium gift packaging!
This is the coolest product ever! Also the packaging and everything is on point. I find that this moon really helps me when i am wanting to calm down quickly. As crazy as it sounds, its almost like a tool to remind myself to breathe deeper and take a moment. So glad I purchased
good quality but shipping to Australia took over a week..
I had to wait for more than a week for shipping to Australia.. I know you just started selling here in Australia, but I don't like to wait this long so 2 stars for me. Quality of the product is nice, but I just expected faster shipping than these 8 days..
06/01/2021
Jeanette

United States
some words from an old fan
hey, Jeanette here and I just want to share my thoughts in this review. I've been using Happyhaves products since the beginning as I truly admire the holistic lifestyle where you guys stand for. Especially the cute details in your products and the things you do for animals and people in need. As a woman owned business I think Fay did a great job these years to keep everything small just as it was in the beginning. I hope this will stay forever in comparison of other businesses that sell their soul (like Wholefoods did..). I always (ok, well most of the time) order my gifts from your website and so far everybody is loving it (thanks for offering AfterPay nowadays lol). I can imagine that business can be hard with the pandemic and everything going on, but I just wish you guys all the blessings in life. Warmly, Jeanette x
Hi Jeanette! This is Laura, and I just had to reply to your message. It fills my heart that you support us for such a long time. Thank you so much for taking the time to write these kind words. We truly do our best to give all souls more mindful moments in their life. Thank you for supporting us in our journey to spread more love and holistic happiness around the world! All the best, Laura ❤️ (Team Happyhaves)
05/24/2021
Caroline

United States
Wonderful
I had purchased a beautiful decorative diffuser from Amazon but to my disappointment, the once powerful mist died out in about a few months. I was looking around to find an aesthetic and good quality diffuser. To my surprise I came across Happy Haves and their out of this world (literally) Moon Diffuser!! I read the reviews all positive! And loved what Happy Haves had to offer with their whole concept of stress free living and giving back as well. My Moon Diffuser is so gorgeous, easy to use and has a powerful mist with the guarantee on it! I'm very happy!
Hey Caroline, thank you so much for your kind words. It means a lot to us. We truly hope that your new Happyhaves Full Moon will give you a lot more mindful moments in your life. All the best, Laura (Team Hapyhaves)
05/01/2021
Suzanne M.

United States
Best kept secret
I was told about this product from a friend, that it helped save her sleep schedule by reducing her husband's loud snoring. I've had many diffusers in my life and this one is my favorite. I love the cute moon look very much. I bought it as a humidifier to also help balance out the dryness in my bedroom and improve our air quality (and it worked a lot). The product was very well packed with an aromatherapy guide, cotton swab stick, charger, etc. The auto turn-off feature when there's no more water inside is really working. I was so happy with this feature as my family always forgot to check the water level (and this happyhaves moon has over 1 liter water capacity so it runs for over 8 hours straight!). If you value your well-being and health in general, this is an amazing price for what you get. I wish I would've known about it a long time ago. I'm definitely planning to purchase more of these for my house.
1 YEAR HAPPINESS GUARANTEE
WE PLANT TREES IN CALIFORNIA & AUSTRALIA
FREE INTERNATIONAL SHIPPING ABOVE $30