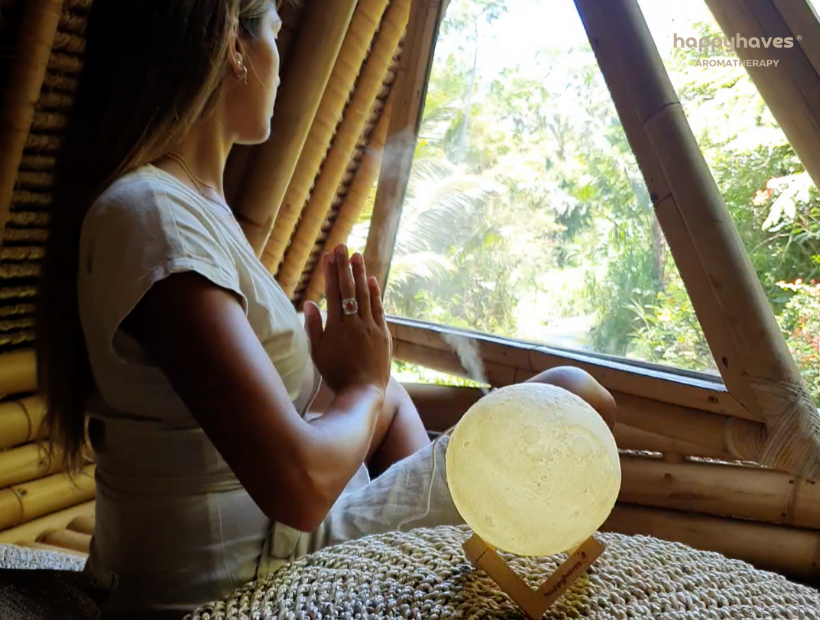 'THIS FULL MOON IMPROVES YOUR DAILY MOOD. GUARANTEED.' - Well Magazine
Does essential oil diffuser works for your health? Yes, this one does. The air you breathe and the light you see should brighten up your mood and sharpen your health. It's a full moon with lights that adds glow to your life.
IMPROVE YOUR WELL-BEING 
Bring the Full Moon® with you wherever you go. Claim your own mindful moments in this busy world. You deserve it (sale ends in 24 hours).
GET 40% OFF
MOST SPIRITUAL EYECATCHER
During these uncertain times we have to take care of ourselves. You know how calming and relaxing looking at the moon is, that's how it feels looking at our Full Moon (Diffuser and Lamp in 1).
With this Happyhaves Full Moon, you can outgrow your anxiety, stress and mood swings with exposure to essential oil.
''This magical moon brings you calmness in days you're feeling anxious and stressed. It's a musthave in every home nowadays.'' Yoga Journal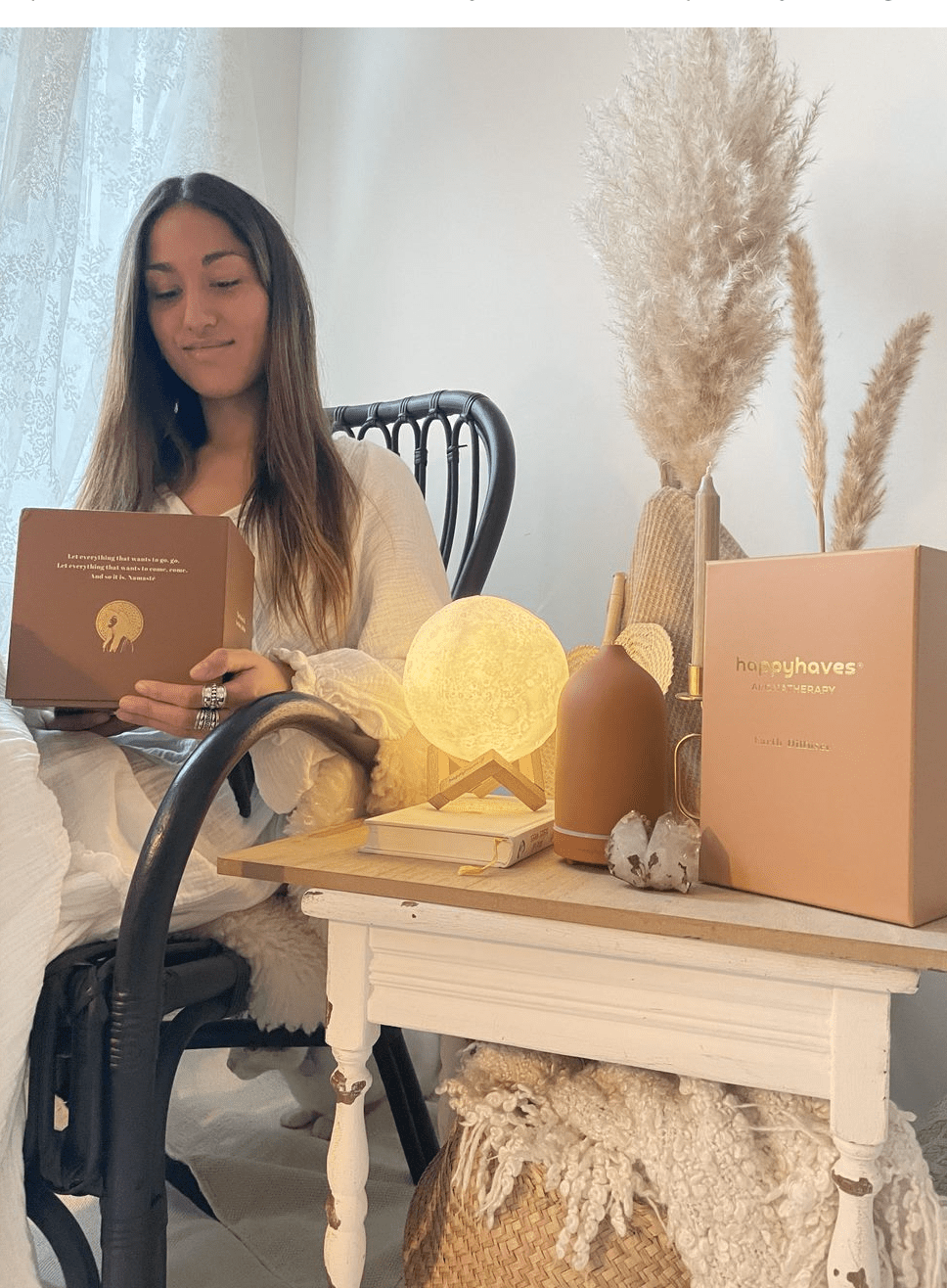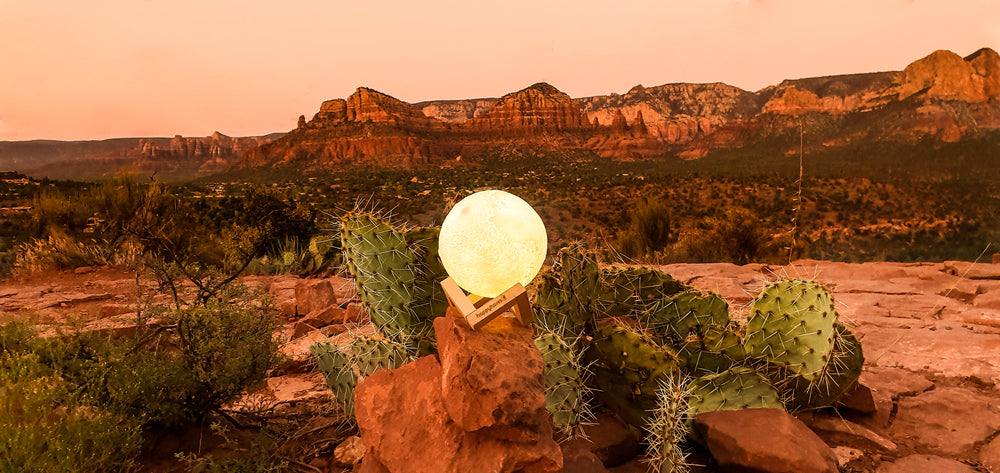 DISCOVER THE POWER OF NATURE
The Happyhaves Full Moon® is known for their calming lights and stress-reducing diffuser function. Let's see how it works! 
A press of a button and the Happyhaves Full Moon® comes to life in 3 different colors; warm, soft white and yellow. 
WHY 30.000 + HAPPY SOULS LOVE IT

- The first cordless diffusers (charged in 2 hours - runs multiple hours)
- Calming lamp with 3 lightning options (also runs cordless)
- Made of eco-friendly materials (BPA-free and recycled wood)
- Extremely quiet diffuser (only 30db)
- Big water capacity of 1400ml to spread holistic happiness at home (30sq meters room), the office or yoga studio.
BEST GIFT FOR BODY & MIND
This Happyhaves Full Moon is consciously created with love to give you a mindful moment for yourself in this busy world. 

Perfect for yoga, moon rituals, meditation or just while reading your books in bed. Finally, slow down and reconnect within to feel more grounded.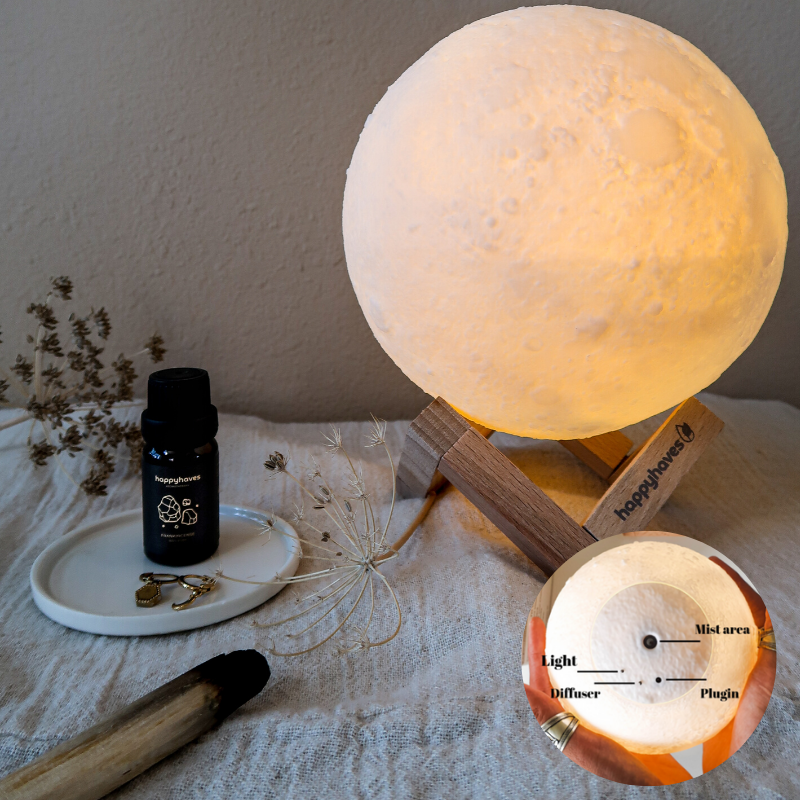 HAPPYHAVES - MUSTHAVES FOR HOLISTIC HAPPINESS
Out of love and necessity rather than profit and novelty, it's our purpose to spread holistic happiness worldwide: for all human souls and our precious planet. 

The Happyhaves Full Moon® is a unique consciously created product aimed at inspiring change in the way we consume through a deeper connection with the moon.
FREQUENTLY ASKED QUESTIONS
What is the size of the Full Moon?
The size of the Full Moon is almost 6 inches (14 cm) which is perfect to hold in both hands. You'll love it.
Where can I buy Happyhaves™ ultrasonic diffusers?
Happyhaves™ products are exclusively available through this online store. That's how we can guarantee the best price - and cut out unnecessary margins.
What about shipping costs and returns?
We offer a 1-year limited warranty for all our products. Returns are accepted within 30 days after you receive your order. We offer fast shipping, with tracking numbers from FedEx or UPS.
Where are the products shipped from?
We ship all Happyhaves products in 24-48 hours from our warehouse in California. 1 YEAR HAPPINESS GUARANTEE
WE PLANT TREES IN CALIFORNIA & AUSTRALIA
FREE INTERNATIONAL SHIPPING ABOVE $30