'THIS FULL MOON IMPROVES YOUR DAILY MOOD. GUARANTEED.' - Well Magazine
Does essential oil diffuser works for your health? Yes, this one does. The air you breathe and the light you see should brighten up your mood and sharpen your health. It's a full moon with lights that adds glow to your life.

IMPROVE YOUR WELL-BEING 
Bring the Full Moon with you wherever you go. Claim your own mindful moments in this busy world. You deserve it (sale ends in 24 hours).
GET 40% OFF
MOST SPIRITUAL EYECATCHER
In today's stressful times, it's understandable if you're feeling overwhelmed with anxiety, fears and uncertainty. If you're like most people, it's difficult to shut out the deluge of fear-based news, information and other noise coming from the world. 
That's why we consciously created this stunning combination Full Moon Diffuser and soothing lamp to help you find more inner peace, calm and relaxation no matter what chaos is happening outside yourself. 
Enjoy this spiritual cordless diffuser whenever you need to recharge and rebalance, and connect with yourself. 
DISCOVER THE POWER OF OUR NATURE
The Happyhaves Full Moon is known for their calming lights and stress-reducing diffuser function. Let's see how it works! 
A press of a button and the Happyhaves Full Moon comes to life in 3 different colors; warm, soft white and yellow. 
WHY 20.000 + HAPPY SOULS LOVE IT

- One of the first cordless diffusers (charged in 2 hours - runs multiple hours)
- Calming lamp with 3 lightning options (can also run cordless after fully charged)
- Ultrasonic diffuser made of eco-friendly materials (BPA-free and recycled wood)
- Extremely quiet diffuser (only 30db)
- Big water capacity of 1500ml to spread holistic happiness at home (30sq meters room), the office or yoga studio.
BEST GIFT FOR BODY & MIND
This Happyhaves Full Moon is consciously created with love to give you a mindful moment for yourself in this busy world. 

Perfect for yoga, moon rituals, meditation or just while reading your books in bed. Finally, slow down and reconnect within to feel more grounded.  
HAPPYHAVES - MUSTHAVES FOR HOLISTIC HAPPINESS
Out of love and necessity rather than profit and novelty, it's our purpose to spread holistic happiness worldwide: for all human souls and our precious planet. 

The Happyhaves Full Moon® is a unique consciously created product aimed at inspiring change in the way we consume through a deeper connection with the moon.
Frequently Asked Questions
Can the diffuser really run cordless?
Yes! This is our 2.0 version of the Happyhaves Full Moon which took us almost a year to make it run cordless.
What is the size of the Full Moon?
The size of the Full Moon is almost 6 inches (15 cm) which is perfect to hold in both hands. You'll love it.
Do you also sell essential oils?
Yes we produce our own organically farmed essential oils in France.
Where can I buy Happyhaves™ ultrasonic diffusers?
Happyhaves™ products are exclusively available through this online store. That's how we can guarantee the best price - and cut out unnecessary margins. In the spring of 2021 we will open our first store in Joshua Tree (California, US).
What about shipping costs and returns?
We offer a 1-year limited warranty for all our products. Returns are accepted within 30 days after you receive your order. We offer FREE shipping within the US, with tracking numbers from FedEx or UPS.
Where are the products shipped from?
Usually we ship all our Happyhaves products in 24-48 hours from our warehouses in Dallas and San Bernardino (US).
Happyhaves Full Moon Lovers
Customer Reviews
05/09/2021
Tela A.

United States
05/01/2021
Suzanne M.

United States
Best kept secret
I was told about this product from a friend, that it helped save her sleep schedule by reducing her husband's loud snoring. I've had many diffusers in my life and this one is my favorite. I love the cute moon look very much. I bought it as a humidifier to also help balance out the dryness in my bedroom and improve our air quality (and it worked a lot). The product was very well packed with an aromatherapy guide, cotton swab stick, charger, etc. The auto turn-off feature when there's no more water inside is really working. I was so happy with this feature as my family always forgot to check the water level (and this happyhaves moon has over 1 liter water capacity so it runs for over 8 hours straight!). If you value your well-being and health in general, this is an amazing price for what you get. I wish I would've known about it a long time ago. I'm definitely planning to purchase more of these for my house.
04/27/2021
Jennifer W.

United States
04/27/2021
Mason P.

United States
happy sis
I bought this lamp/diffuser for my sister and she went nuts over it. She's in her 20s and has it on her bedside table and now my mom also wants one lol
04/27/2021
Sabrina P.

United States
research, research, research..
I did a ton of research before buying a diffuser. There are so many available and really different price points so I wanted to pick the one that would function flawlessly and look nice - not look like a plastic spaceship. There were cheaper knock-off options than the Happyhaves one, but they all looked really cheap. I value quality and my health so I chose to pick the original one from Happyhaves. When my Happyhaves diffuser arrived, I wasn't disappointed.. it is beautifully packaged and has a nice weight to it. It comes with extra (aromatherapy and ritual) books and I value the details of work they put into this. It works great and especially during my yoga/meditation sessions it gives it an extra special/spiritual vibe..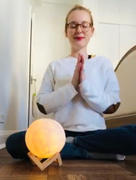 04/27/2021
Robert E.

United States
neat gift to remember
Very neat gift for anyone who appreciates the moon. The moon itself is 3D printed, so you can literally see the exact same surface of the full moon in real life.Great quality, light weight and very nice to touch.
04/27/2021
Ashley M.

United States
Improves my sleep quality
This lamp and diffuser in 1 is so cool! It really looks like a moon! It's perfect as a nightlight and illuminated the room enough that I can navigate easily, and it's so soothing that I passed out into a deep sleep with it on (while normally, I'm having a hard time getting into a deep sleep). The last few days I'm feel more energized when I wake up so it's already a game-changer for me.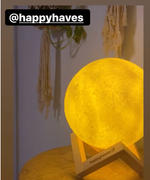 04/17/2021
Kendra I.

United States
BEAUTIFUL spiritual eyecatcher
Ok, I have to be honest. This the cutest diffuser and lamp in 1 I EVER saw. And.. I GOT IT >3 based on the photos and reviews I had some pretty high expectations but now I have it in my hands it exceeded my expectations by far. The best thing is that I can use it as a night lamp, during yoga sessions, or just have it diffuse in the kitchen. Everybody at home is in love with it and I'll buy many more as gifts!!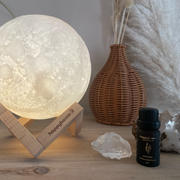 04/16/2021
Jennifer E.

United States
Honest review
Usually, I don't write many reviews but I just want to be honest and I want to give you guys a big compliment on how you give so much attention to every detail. Literally, everything is on point and I couldn't wish for a better diffuser. The combination of a lamp is also brilliant. I highly value sustainable products and this is truly an example for other aromatherapy companies. Well done.
04/16/2021
Christine E.

United States
best gift EVER
My daughter bought me the Happy Haves Moon and I'm obsessed with it. I use it everywhere in the house and it gives so much positive energy at home. We will buy a lot more very soon!
1% DONATED TO ENVIRONMENTAL CHARITIES
365 DAY HAPPINESS GUARANTEE
OVER 34.000 HAPPY SOULS
SHIPPED WITH LOVE FROM CALIFORNIA